Inauguration of 2 MISTAH classrooms in Panlaitan National High School

Date: 06 May, 2020
No Comments
Inauguration of 2 MISTAH classrooms in Panlaitan National High School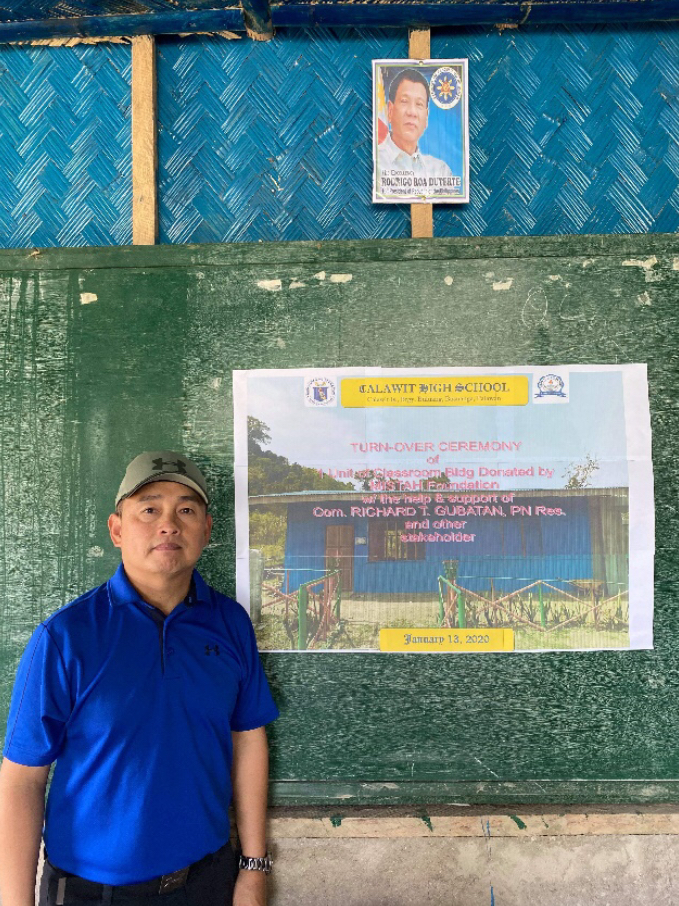 Calauit Island, Brgy. Baluanga, Busuanga, Palawan – On 13th of January 2020, the Mistah Foundation,represented by Com. Richard Tamayo Gubatan Sr. (PN)Res., the 41st Naval Squadron, Navy Reservists from Palawan, together with the students and folks from the island attended a ribbon cutting ceremony. The ceremony was hosted by the Faculty of Panlaitan High School held for the humble opening of the 2 new classrooms donated by the foundation itself.
The island situated about an hour and a half ride from the team's hotel in mainland Coron, a 30-minute boat ride to the island, and a long trek to the school was a grueling job for all of them, but very fulfilling as well. This project was one of the most memorable for the team considering that they helped with the construction of the structures.
It was a costly project since the foundation had to hire masons and carpenters to be able to finish the building. Most of the population in the island were engrossed with their usual workloads such as fishing & farming for the males along with sewing, selling & tending to their children's needs for the females. Nonetheless, the natives try to lend a helping hand to the laborers on their free time along with the Navys, Barangay officials, PTA Members, and of course, Col. Gubatan himself. Making it a traditional Bayanihan to the community, it also aided with the finances.
During the ceremony Col. Gubatan delivered a short inspirational message to the students, stating the foundation's belief that every citizen of the state is endowed with rights to be properly educated and trained to live in truth, integrity, and high moral standards.
Furthermore, he also gave his thanks to the hard work and perseverance of the Faculty for incessantly sharing knowledge to their students, the diligence of the parents for keeping their children in school, and definitely to all the native's unending hospitality whenever their team visits the island of Calauit.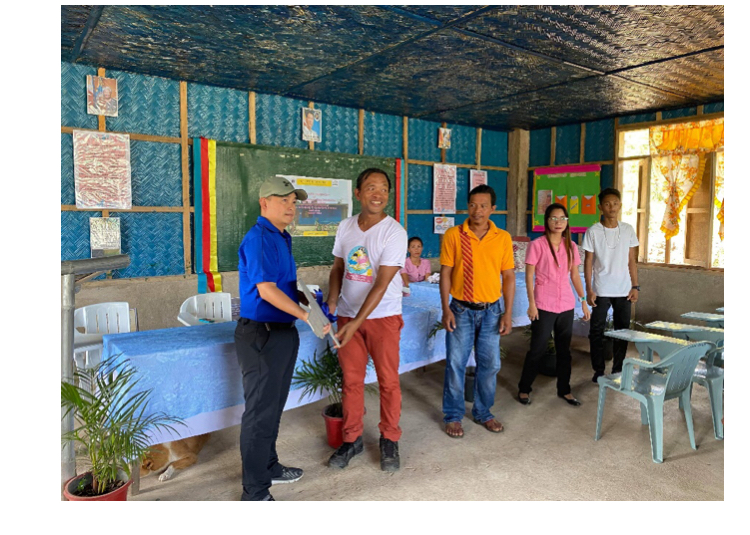 After the ceremony, Col. Gubatan presented an additional donation for the classroom, which was a total of 100 plastic chairs to be used by the students. Of course, with all the soldiers around, a traditional boodle fight should not be missed. They had a little feast together with the natives at lunch.
The team stayed in the island for a few more days to undersee the finish of the classroom's construction. On the team's departure, Col. Gubatan promised to be back in the island on June 2020 for another donation consisting of 140 pocket dictionaries for the students.
"Happiness is not something in your hands. It's something you carry in your heart. Give it away generously and it will return to you a thousand folds."