Medical and Dental Mission and Feeding Program

Date: 08 Jun, 2017
No Comments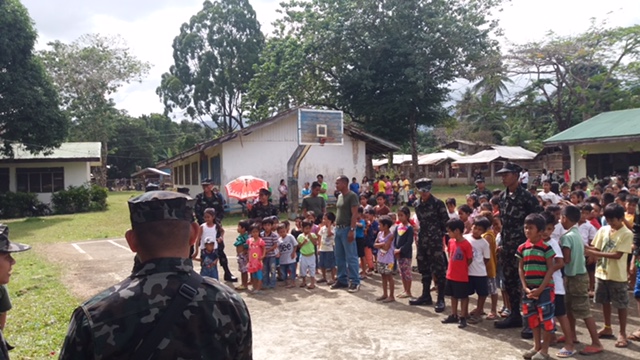 On about February 16, 2017, The Naval Forces Reserve West and Zion Church supports a community activity that includes Medical, Dental and Feeding Program organized by MISTAH Foundation headed by Deputy Commander RICHARD T GUBATAN PN (RES) at Bgy. Napsan, Palawan.
The said activity started on exactly 8:00 in the morning. ENS WAYNE A SOCRATES accounted and instructed the troops about different activities on that day and also their contributions for the success of it. SN2 MACKY CANILLO is the platoon leader of the said troop together with SN2 SONNY CAYAO as the CMMA. Reservists are given instructions about the different programs that will be conducted on that day. At 10:00 in the morning, pupils from Napsan Elementary School and medical troops from from Zion medical team arrived. With the presence of all participants, the short program started. Dr. Christian Aguilar, the principal of Napsan Elementary School gives a warm welcome to everyone who joins the activity. He gives message about the emphasis of collaboration at all aspects. He explained that through unity and cooperation of one another, peace and harmony is attainable. He also gives thanks to the entire reservist for rendering voluntary support to the said activity. After the message, Pastor Edwin Manlavi leads the prayer to bless the food. After the prayer, the juices and burgers prepared by the foundation were distributed by the reservists to the pupils. Aside from the pupils, parents and other participants also joins the feeding program. The reservist also rendered some services such as grass cutting, sweeping and picking up garbage to the school. After everyone has done with their snacks, the Zion medical team started the medical mission. Reservists organized the medical packages, cleans the medical apparatus, provides some assistance and some serves as security on the area. Anyone who needs medical and dental assistance was addressed by the medical team. The medical team also give some giveaways like toothbrush etc.
The program ends by the prayer given by Pastor Camilo Villaralso. He also used the opportunity to give thanks to the troop for their valuable and voluntary support not only to the medical team but also to the school and community. He also gives thanks to MISTAH Foundation for providing such remarkable activity for everyone especially those who are less fortunate. After the program, ENS SOCRATES instructed the 422nd squadron to clean up and fixed all the things in the area.
The program ended successfully. It leaves a smile to everyone. It gives hope and help to all the reservists, students, parents and the local community. Through the help and effort of MISTAH Foundation, Napsan National High School, Bgy Council, Zion Church, reservists from 422nd Naval Reserve Squadron, Naval Reserve Center West headed by LCDR VLADHYMIR LAWAS PN, LCDR SYLVANNY GASTANES, SN2 MYRA ATIENZA and with the approval of CAPT RODRIGO MEJIA PN (MNSA) (RES) Naval Forces Reserve West together with the local community of BGY. Napsan and Bagong Bayan, the feeding program, medical and dental mission.